Custom Built Farm Equipment Job Shop Repairs Welding & Machine Retail Parts Sales

Take a look at some of the items we manufacture:
We extend corn and row crop heads for John Deere dealers as well as for the general public.
We manufacture cotton stripper heads and frames for 8 row 40", 8 row 30", 8 row 20", and 12 row 20". We manufacture cotton head extensions in many different configurations.
We build land leveling floats in designs from 10 feet to 40 feet wide. Some are three point, some are drag type, some have folding wings and some are rigid.
We manufacture flat fold spray booms in 16 row 40", 18 row 40", 24 row 30", and several other configurations.
We manufacture flat fold sandfighters and rotary hoe bars.
We also manufacture many smaller items for use on the farm including cattle loading chutes, hay bale feeder rings, drip oil stands, and sprinkler stops. We have a large inventory of ag. bearings, ag. hubs & spindles, tillage tools, trailer hitches and springs, hydraulic hoses, fittings, cylinders, etc.
We specialize in all types of farm equipment repairs. Our shop is fully equipped to serve your needs. We carry a large inventory of steel and implement accessories. We have the equipment and personnel to make sure your project is completed on time. Let us supply you with your custom built farm equipment.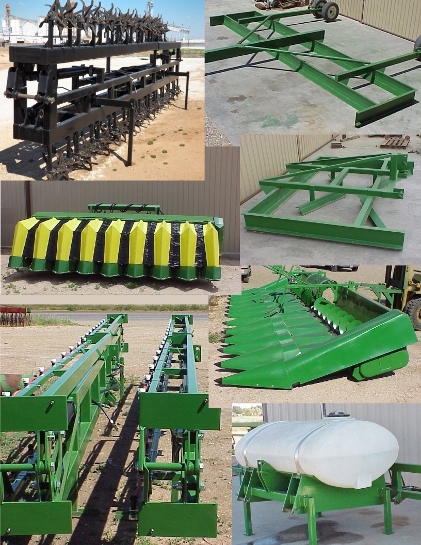 We have a very nice CNC Plasma Torch Table. This machine can cut intricate patterns from sheet iron and plate metal. We can cut precise shapes out of plates as thick as 1-1/4". We can also cut letters, names, and picture shapes. Come by and take a look at what we can do for you and your project.